Baby Gifts Delivered to the Frances Perry House Daily
For FREE standard delivery to Parkville, please use the COUPON CODE: HOSP18
My Baby Gifts delivers daily to the Royal Women's Hospital (Public) in Parkville & Frances Perry House (Private). We also provide FREE standard delivery to the Royal Women's and Frances Perry House. Being local to Melbourne means we can sometimes deliver your gift within 2-3 hours when the order is placed before 12 pm on that day. We understand the importance of getting gifts delivered to hospitals fast and our business model is based around ensuring we can offer this level of service to our customers.
Couriers Versus Postal Deliveries
Many online retail shops use postal services or other bulk parcel handling companies but we only use Couriers for our local deliveries. Why? The postal delivery will not take the gift directly to the mothers ward/room. They will leave the parcel down in the hospitals mail delivery centre. The parcel may wait there for days before the staff take it up to the rooms. For this reason we only use point to point couriers which means a driver will collect your gift from our warehouse and go directly to the hospital ward - avoiding the mail room altogether. Our many years of experience has taught us this is the only practical way to deliver to hospitals.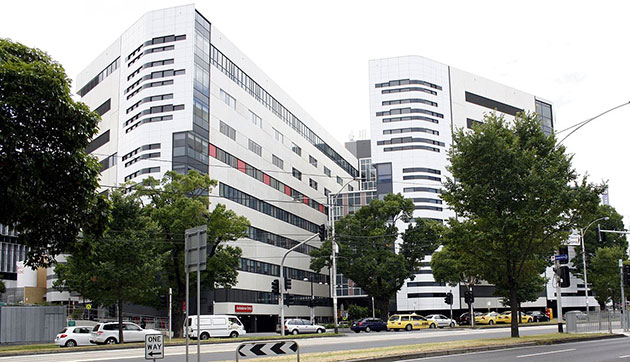 Frances Perry House is a fully accredited obstetric and surgical hospital situated close to the Melbourne CBD. The Hospital has 93 beds including a cot Level 2 special care nursery. We have 6 birthing suites, a dedicated postnatal unit, 3 operating theatres, a day surgery unit, a urodynamics procedure room and a surgical/maternity unit.
Frances Perry House has the unique advantage of being co-located with the Royal Women's Hospital. This allows us to provide our customers delivery of baby hampers to both the Public Hospital (Royal Women's) and private hospital (Frances Perry).
Newborn Baby Gifts Delivered to Frances Perry House
My Baby Gifts delivers gifts for newborn babies delivered at Frances Perry House, situated within the Royal Women's Hospital. Baby related gifts can be delivered same day Monday to Friday.
Frances Perry House History
Frances Perry was the wife of the first Anglican Bishop of Melbourne. From 1856 to 1876, Mrs Perry was the President of the Royal Women's Hospital in Melbourne. Frances Perry House first opened in 1970 as the Private Wing of the Royal Women's Hospital. Frances Perry House is owned and operated by Ramsay Health Care.
The hospital specialises in Obstetrics, Gynaecology, Neonatology, Breast Surgery, Day Surgery, Reconstructive and Plastic surgery.
Frances Perry House Contact Details
Royal Women's Hospital
Levels 6 and 7, Corner of Grattan Street and Flemington Road
Parkville, VIC 3052
Phone: 03 9344 5000
Fax: 03 9344 5055
Web: Frances Perry House
View Larger Map