Our Reward Points Program enables users to generate valuable reward points that can be redeemed anytime on future purchases.
How do i Join the Rewards Program?
There is no need to register or sign up to our rewards program. All registered users are automatically added into the system and can start benefiting from the program immediately. After you make your first purchase, you will start generating points to use on future purchases. Reward Points can be redeemed at any time. There are no expiry dates or restrictions on when you must use the points generated.
Points generated can be applied to the entire amount of your purchase, including the shipping total. So, assume your order total is $89.00 and points earned is valued at $100, you can send the gift out free of charge and still have $11.00 in points remaining in your account. The value of points can be established by adding a decimal point 2 places from the right. So, if you have 790 points earned, 2 decimal places from the right would make it $7.90 in value.
Reward Points Redemption
In order to redeem your points, simply checkout with your product as you normally would. Once you reach the final payment page, there will be a small check box that allows you to apply your points to your order. See image below. Some of our corporate customers are using their points to send baby gifts for free! One of the many advantages of shopping with us.
Corporate Customers Welcome
We have a number of corporate customers purchasing gifts on behalf of their business for staff & colleagues, then using the points generated to spend on personal gifts. We have no problem with this, as long as your employer is ok with this.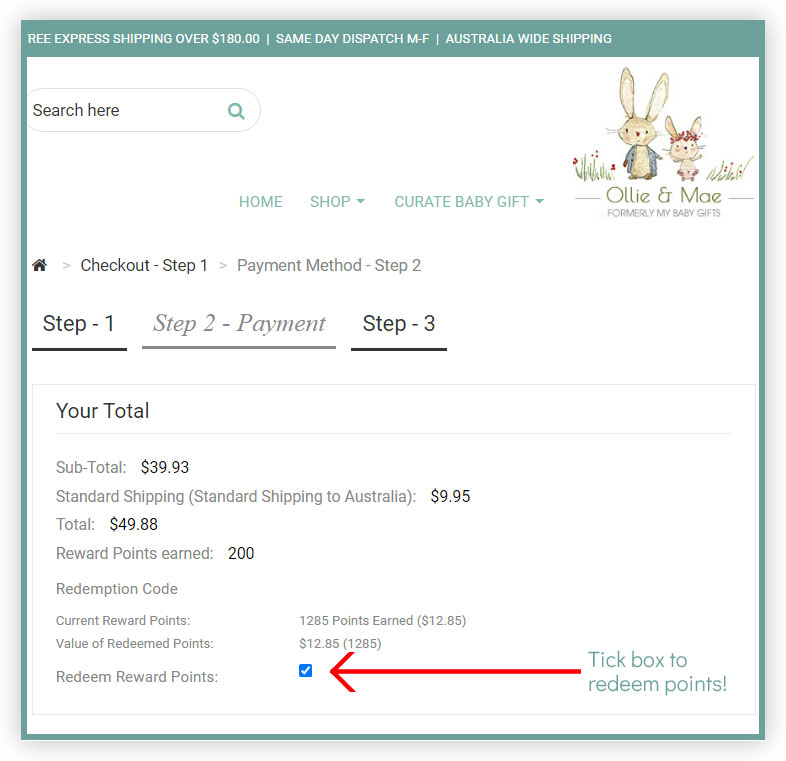 Are there any restrictions
Reward Points cannot be exchanged for cash.