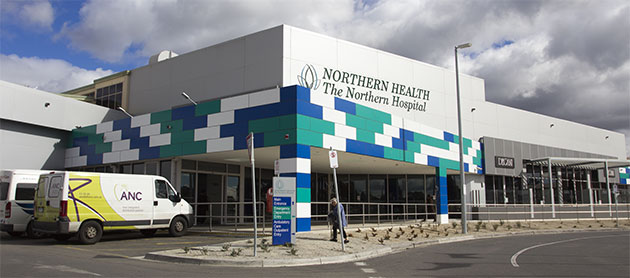 The Northern Hospital, located in the northern suburbs of Melbourne, Victoria, opened in 1998 and nine years later, in 2007, had a major upgrade. The Northern Hospital is a 300 bed hospital treating nearly 70,000 patients each year. The Northern Hospital is located ajacent to Epping Plazza, a major shopping centre with over 215 stores. The Northern Hospital, together with the Epping Plazza, provides ample parking and public transport access. Visit Public Transport Victoria for information about getting to the Northern Hospital using public Transport.
The Northern Hospital Maternity Services
The Northern Hospital Maternity Unit has 24 beds in a combination of single room beds, two bed and four bed rooms. Over 3,000 babies were born at The Northern Hospital between July 2012 and the end of June 2013 (an average of 8.3 births per day). The maternity unit has seen a 20 percent incrase in babies delivered from the previous 12 months. In the financial year of 2011/2012, 2694 babies were born at The Northern Hospital, with 2407 babies born in the 2010/2011 year.
Northern Health
The Northern Hospital is a part of Northern Health. Northern Health includes The Northern Hospital, Broadmeadows Health Service, Bundoora Extended Care, Craigieburn Health Service and Panch Health Service.
The Northern Hospital Contact Information
185 Cooper St
Epping Victoria 3076
Phone 03 8405 8000
Web Site: Northern Health
Mel Ref: 181 J12
View Larger Map
Return to Melbourne Hospitals