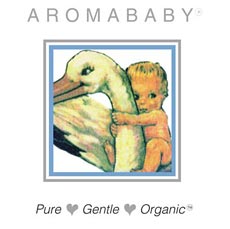 Aromababy Natural Skincare was created by aromatherapist and natural skincare specialist, Catherine Cervasio for her own baby - the first brand to combine the use of natural and organic ingredients with neonatal research. Choose from a comprehensive range, based on ingredients carefully chosen to suit sensitive and eczema-prone skin. Products are free from petro-chemicals, sulphates, parabens, propylene glycol, lanolin, dairy/goats milk, phenoxyethanol and more. Concentrated formulations ensure a little goes a long way, resulting in affordable luxury for the most precious little person in the world.
Certified Organic
With an extensive collection of Australian-made skin care that is rich in certified organic, natural oils and natural (non acetate) Vitamin E, Aromababy has something to suit all pregnancy, labour, postnatal, baby skincare, baby massage, sensitive skin and gift giving needs with NEW Hand Sanitiser coming soon.
Free from Harmful Chemicals
In place of potential irritants that Aromababy have rejected from their formulations, you will find a variety of gentle, soothing ingredients including certified organic rosehip oil, natural vitamin e, certified organic avocado oil, certified organic jojoba, certified organic calendula, premium organic essential oils and more. In place of talc you will find soothing, certified organic oat and edible-grade cornstarch powders. Together these hand-picked ingredients have been combined to produce this leading pure and gentle babycare range which has proven beneficial for soothing and protecting even the most sensitive skin since 1994.